The Mitsubishi Mini Split
"Your typical window air conditioner gets jammed into a window every season and taken back out for the winter. It vibrates, it's loud, and it damages the window frame," says Adrian Pinney, owner of Pinney Plumbing & Heating. "It's inefficient."
There's a better way to endure summertime in the Granite State, one that's quieter and more energy efficient as well. Ductless mini-split systems designed by Mitsubishi bring sleeker and more cost-effective cooling solutions to any area of the home. Here are five reasons to consider using a Mitsubishi Mini Split to help you get through the summer.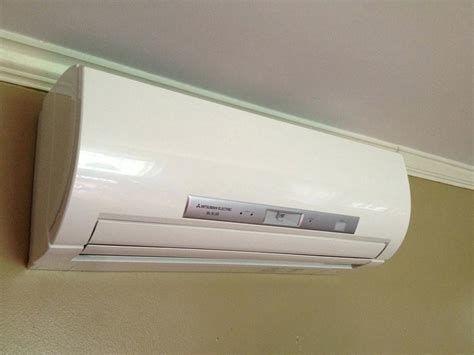 1. They're More Energy Efficient
In window unit air conditioners, the compressor starts and stops, starts and stops, starts and stops, all day long. They work at just one speed, and they're either all the way on or all the way off, sucking up electricity as they struggle to cool the house.
Not so with Mini Splits. "They're very high efficiency, all variable-speed motors," says Pinney, whose company has been installing air conditioning units since 1983. "So they vary their speed as they operate, which allows them to continue to run when the load is smaller, and they use less electricity as they do that."
Unlike a window unit that just blasts air, Mini Splits slow down as the room gets cooler, running just enough to tamp down that summertime stickiness. "The Mitsubishi unit can keep itself running, only using the electricity it needs for the job it's doing at the time," Pinney says, "and continues to run even at a slow pace to keep that moisture pulled down to about 50 percent relative humidity." Users can expect to realize about a 30% savings on their energy bill.
In addition to reducing energy consumption and costs, most Mitsubishi Mini Split units have State of New Hampshire energy tax rebates.
2. They Offer More Flexible Options
Mini Split units, which filter allergens and are quieter than a whisper, can be hung on the wall, mounted from the floor, or suspended from the ceiling, providing a variety of options depending on the type of air flow needed. Through a small opening in the wall, they connect to a slim outdoor unit that is rectangular rather than square, so it sits closer to the home's exterior wall and takes up relatively little space.
"It's easy to have one in your garden," Pinney says, "and it not look like you've lost your garden to it."
Mini Splits have ducted options that use far less ductwork than traditional cooling systems, with all of the high-efficiency benefits and variable-speed performance of the ductless version. "There's a lot of flexibility in how big, small, or involved you can get," Pinney says.
Mini Splits also offer a heat pump variety that operates effectively down to about 25 degrees exterior temperature, with a "hyperheat" option that works until about minus-18 degrees — perhaps not advisable as a home's sole heat source, but ideal for warming garages, additions, or any other cold spots in the house.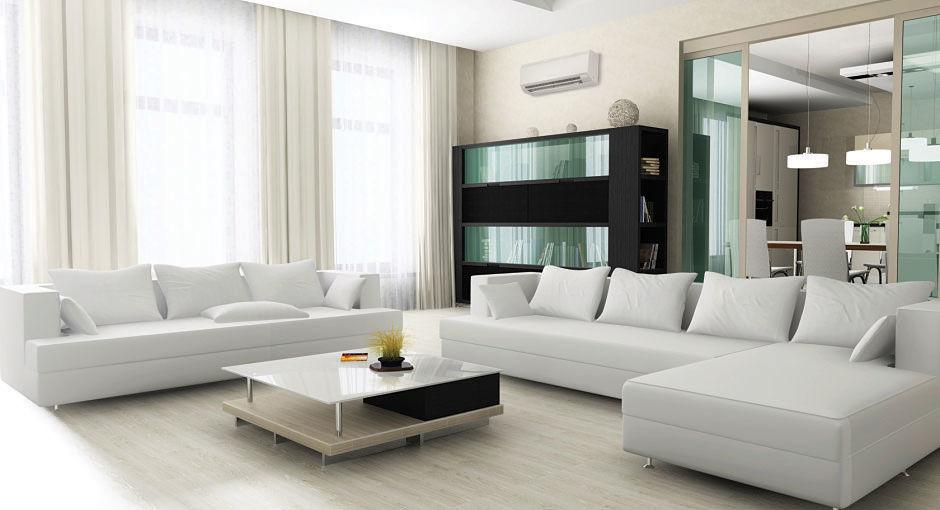 3. They're Sleek
Mitsubishi Mini Splits are contoured, unobtrusive units created to fit seamlessly into a home's design. The equipment itself is compact, which in cases of renovation allows for the addition of larger windows, higher ceilings, and no working around ducts. Compared to window units, they offer a sleeker look that blends in better with walls and ceilings. They're also whisper-quiet and controlled via tablet or smartphone, fitting in easily alongside other technology in the home.
4. They're Easily Installed
With no ductwork to worry about, mini-splits can be installed in multiple rooms in a day, Pinney says. A trained installer will inspect the home at no charge, and measurements will be taken. Pinney says mini-splits are readily available, and that Mitsubishi offers excellent factory support.
5. They're Warrantied
Aside from increased energy efficiency, flexible options, easy installation and a more modern look, there's one more major benefit of adding a mini-split — they're warrantied for 12 years when installed by a Mitsubishi-trained diamond dealer like Pinney Plumbing & Heating.
Interested in more information on Mitsubishi Mini Splits, and how to cool your home more efficiently and quietly this summer? Contact Pinney Plumbing & Heating at (603) 357-0944 in the Keene area or (603) 924-7588 in the Peterborough area, or visit PinneyPlumbing.com.