Contact Us Today
Keene Area: 603-357-0944
Peterborough Area: 603-924-7588
Welcome to Pinney Plumbing & Heating!
Serving Peterborough, Swanzey, and the entire Monadnock region for 44 years.
Est. 1978 by Adrian & Norma Pinney – Ethan Pinney, owner.
Bathrooms
Toilets, shower valves, vanities, sinks, faucets.
Kitchens
Icemakers, disposals, dishwashers, sinks, faucets.
Water Heaters
Gas, oil, electric storage, instantaneous add-on.
Pumps
Repair & service, goulds & sump pumps.
Radiant
Warm floor systems, WIRSBO certified.
Laundry Room
Valves, drains, dryer vents, gas, re-hookups.
Indoor Air Quality
Allergies, mold & dust filtration, energy recovery.
Save Energy & Money
Heating & A/C units should be cleaned annually.
Energy Saving
Up to 25% annual savings, heating controls & hot water.
Heating
Steam, water, radiant, conversions, cleaning, boilers.
Water Treatment
Softeners, filters, testing, service & installation.
Air Conditioning
Design & installation, service & repair, ventilation.
Family & Locally Owned
In the fall of 2021, Pinney Plumbing & Heating lost Adrian Pinney, our founder, friend, colleague, husband and father. Ethan Pinney has purchased the company, and with the supporting role of his mother Norma, will continue the tradition the family created. The values that Adrian and Norma built together over more than 40 years is the legacy the current team has inherited and will maintain for future generations.

Keene Area: 603-357-0944
Monadnock Region:
603-924-7588
Licensed & Insured
Family & Locally Owned
Residential and Commercial
Licensed Master Plumber #1061
Gas Fitters Lic #GF1206579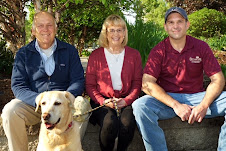 Adrian & Norma Pinney (Founders) and Ethan Pinney (Owner) with Maddie.
Happy World Plumbers' Day!!!
Couldn't live without you. I hope you know that. Please extend our appreciation to all your staff.
∼ Kerry P. Gagne Remodeling & Restoration, Fitzwilliam, NH
I've always had someone show up quickly whenever I have an emergency. Always professional and respectful. The quality of work has been great and they are trustworthy. And the prices are certainly fair. Very happy with the business all around.
∼ Happy Customer, Monadnock region of NH
Highly recommend this company. Affordable, professional, they communicate well to those who do not speak the language of plumbing, and they work great with the contractor. Most important, LOVE MY NEW SINK AND FAUCET!!
∼ Therese, Jaffrey, NH
Wanted to let you know that we are very pleased with the installation of our water systems. Looks good – very neat and professional.
∼ Sue & Chet, Sharon, NH
Dear Mr. Pinney,
Thanks so much for your help with our furnace alarm (so very)early yesterday. It was a relief to be told that the problem was rooted in the pervasive chill and or new furnace is doing just fine. Your willingness to get involved is greatly appreciated!
∼ Sincerely, Sharon, N.H.
Dear Adrian,
As always your crew is impressive!!! Kevin is so professional, so efficient, and so personable. He seems unflappable – able to devise a solution as needed. even with the situation for this particular sink, he made it look better than fine! We are very pleased.
∼ Again, thanks! Pam
Adrian Pinney,
Many thanks for your emergency assistance to stop a gushing water pipe the other night,and your prompt follow up the next day to correct the problem.
∼ Jaffrey N.H.